(This was just sent out by Dr. Chinchen.)
Thank you very much for your prayers for Dani -- and for the many gracious and loving responses we have received. Below is a note we received this morning from our two American ABC missionaries ladies who are in Johannesburg with Dani -- Amy Staffaucher & Sydney Stringer.
"We just talked to the trauma surgeon and still need to wait for the neurosurgeon before we can get a comprehensive view. She is still stable and they are going to start feeding her through a feeding tube soon. She is still ventilated and sedated. She has a basal skull fracture that the neurosurgeon needs to assess, and he will also be looking at the c-5 fracture and another small fracture on her L-1 (lower back). They will be putting in a chest tube to drain her left lung. She is starting to wake up without sedation which is encouraging to the doctors, though they are keeping her sedated while she is healing."
Please continue to pray for Dani and the others injured in the accident. Two of our college students -- Lonely Chinkuntha & Misheck Mlangali -- spent the night in the hospital with minor injuries. Misheck is the 6th man on ABC's national championship basketball team, and is the one who took charge of the accident scene -- pulling people our of the van, caring for Dani, and then stopping passing vehicles to load injured passengers.
Two of the Children of the Nations children spent the night at our clinic, and one of their house mothers -- Mrs Munthali, whose husband was the driver of the van. All were discharged today, but one of the COTN kids, (a teenage boy beamed Jonathan Mvula) was a badly fractured arm that will require surgery. He was seen by an Orthopedic doctor at our clinic this morning, and will be traveling a hospital in Blantyre (five hours away) for surgery.
I also wanted to send you the picture (to the side) of a young man named Joshua visiting with Amy and Sydney.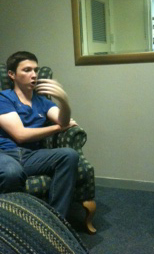 Joshua as he is here sharing his deepest apology! He is choking up as he talks and has been praying for Dani.
Joshua works for the medivac company that airlifted Dani last night (NetCare). I, Peter Bartlett & Dr Jansen had been on the phone with Joshua for over 8 hours yesterday setting up the evacuation. I found out during my 3rd or 4th conversation with him (out of about 20), that he was a strong believer. He was genuinely concerned for Dani, and did all he could to get the plane moving as quickly as possible, but both he and I (and Peter and Perry and everyone else on campus) were maddeningly frustrated by the ridiculously complicated system of trying to coordinate the airlift company in Joburg with insurance companies in the U.S., with call centers in Asia, with hospital admissions people in South Africa, and credit card companies that were suspicious of charges large enough to buy a small house. Last night as we waited at the hospital for the ambulance to arrive from the airport with the medivac team I counted 252 calls and texts that I had made in the previous 14 hours since the accident (not counting another 20+ emails) -- almost all related to getting the airlift team mobilized.
In the end Joshua really came through, but he was also very frustrated with the complicated protocols at his NetCare company, which put payment issues way ahead of the pressing needs of the patient. He called me last night at 10:30 to apologize -- after he had prayed for Dani at his Bible Study that evening, and then asked if he could pray with me on the phone. Wonderful young man.
This morning he went by Milpark Hospital to check on Dani [Joshua is also an EMT], and to apologize in person to Sydney & Amy for the delays in getting their plane of the ground yesterday. But praise God that every report so far has been positive, and that she is in very capable hands at a very good hospital. The doctor on the medivac team told us last night that the hospital's top surgeon (a name he was surprised Peter & I were not familiar with) was personally taking over the case as soon as they landed in Joburg.
Thank you for continued prayer. Paul.
Paul with Misheck and his mother at the ABC Clinic's Tyamike Ward